Like in the first game, Dungeon Keeper 2 has a variety of maps where multiple Keepers can do battle. Notably, unlike 
Dungeon Keeper 1
, the mode to play against computer players is available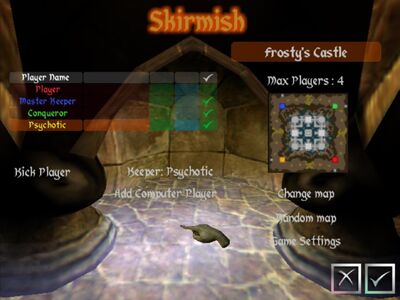 without tweaking, called "Skirmish". 
Alcatraz
Bottleneck
Caverns
Circlet
Clover
Frosty's Castle
Frosty's Lair
Frosty's Realm
Furnace
Gonzalez
HeroCove
Hopping
King Of The Hill
No Mans Land
Olympia
Onslaught
Patrol
Pressure
Siege
Small
Spiral
Swiss Cheese
The Deep End
The Pass
TrapTime
U Turn
Warrens
Game Settings
Edit
Unlike Dungeon Keeper 1, the host of a game can now change certain rules. These include details such as the availability of certain objects, game speed, etc. 
Ad blocker interference detected!
Wikia is a free-to-use site that makes money from advertising. We have a modified experience for viewers using ad blockers

Wikia is not accessible if you've made further modifications. Remove the custom ad blocker rule(s) and the page will load as expected.