Barricade


Statistics
Appears in
Dungeon Keeper 2
Cost (Buy/Sell)
400/200
Health
3000 (Average)
Damages your Creatures?
No
Time to craft
1500
Description
Edit
"This hefty blockade prevents any land-based creatures (including your own) from passing, and may be placed anywhere in the dungeon. Flying creatures and projectile attacks can pass over the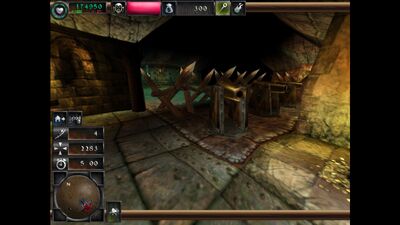 Barricade.
"
The Barricade is structure available in Dungeon Keeper 2. It works similarly to a door when locked, but can be placed on any blank tile you own, allowing you to block off traps and insecurities from your opponents, as well as stopping your own creatures from reaching certain areas. Note that flying creatures can pass over barricades, and creatures can cast spells over them.
Barricades are used well in conjunction with Sentry Traps due to their large range, allowing the sentries plentiful time to bombard your opponents before they can get close.
Traps and Doors

Dungeon Keeper

Traps

Alarm Trap / Boulder Trap / Lava Trap / Lightning Trap / Poison Gas Trap / Word Of Power Trap

Doors

Braced Door / Iron Door / Magic Door / Wooden Door

Dungeon Keeper 2

Traps

Alarm Trap / Boulder Trap / Fear Trap / Fireburst Trap / Freeze Trap / Gas Trap / Guard Post / Jack In The Box Trap / Lightning Trap / Sentry Trap / Spike Trap / Trigger Trap

Doors

Barricade / Braced Door / Magic Door / Secret Door / Steel Door / Wooden Door
Ad blocker interference detected!
Wikia is a free-to-use site that makes money from advertising. We have a modified experience for viewers using ad blockers

Wikia is not accessible if you've made further modifications. Remove the custom ad blocker rule(s) and the page will load as expected.